So, today at work, I decided to document what I did all day. This is not a typical day, since I'm not normally on stock, but I've done stock plenty of times before. And honestly, it was a nice break from having to measure boobs and clean out dressing rooms. I definitely don't love my job and am only working there at the moment to make some money through college, so I don't feel too bad saying that. Some of my customers are complete sweethearts and keep me from throwing my headset across the floor and marching out, and I thank them for that. Others... well. Others are less friendly.

Anyway! On to my day.

I arrived and was told that there were 71 (!!) cartons in the back that needed to be handled. This means they need to go into their appropriate bin if they're going to be folded, or hung up on racks to wait to be sensored.

So this is what the stack looked like when I arrived:




After one hour:




During this hour I decided to take a bathroom break:




And I also took out the trash that I had accumulated (we are a very wasteful company):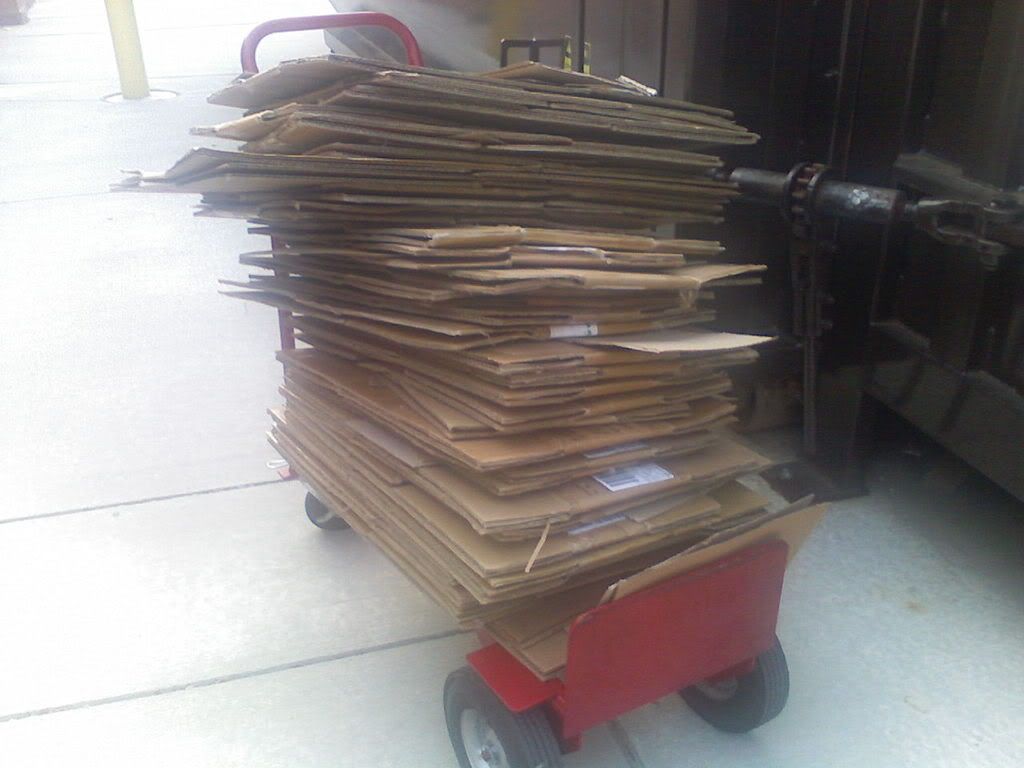 By the way, it's never a good idea to get inside a trash compactor:




Oh, I also like to try on clothes:




Especially clothes of the ugly variety:




And my stack of boxes when it was quittin' time:




Riveting, isn't it? (:

-----------------------

Melissa talked to me about names today. Right now she is liking Reagan Leigh for a girl. She didn't mention any boy names, but I suggested Nicholas after his favorite aunt's middle name (me, duh!!!) and she said she liked it.

Feel free to suggest any names and I'll pass them on to her. Her children are Benjamin Michael and Olivia Grace.

As always, thanks for reading. Leave a comment if you want!