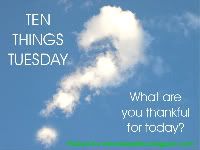 Thanks to XBOX Wife for starting this! Click the picture to go over to her site and add your
very own
ten things.
Today, I am thankful for:
1. Heating! It is awfully chilly outside.
2. Our veterans.
3. Having the whole day to finish up this unit that I've been struggling with.
4. My computer cooperating with me today!
5. The fact that my cooperating teacher's mom's surgery was successful yesterday.
6. The fact that my students think I'm
cool
!
7. Being able to sleep in this morning... 10 am! Woot!
8. The togetherness that the holidays tend to bring.
9. My new niece/nephew... stay safe in there until April,
little one
.
10. My new cousin due in May. My aunt has had trouble conceiving her whole life, and has had several miscarriages. We are praying this
beany baby
makes it.
What are you thankful for?